Uso da simulação no ensino de Medicina de Emergência pós-pandemia de COVID-19
uma revisão integrativa
Palavras-chave:
Treinamento por Simulação, Medicina de emergência, Simulação de paciente
Resumo
Objetivo: Reunir as evidências científicas sobre o uso da simulação para o treinamento em medicina de emergência, contemplando os aspectos mais relevantes e atuais no contexto internacional pós-pandemia pela COVID-19. Método: Foi realizada uma revisão integrativa da literatura com publicações entre 01 maio de 2020 e 01 maio de 2022, nas bases PubMed, Web of Science e Embase, utilizando o fluxograma PRISMA. Resultados: Um total de 19 artigos foram incluídos como a amostra final a ser analisada. A maioria dos estudos usaram desenhos transversais (n=12) para avaliar os efeitos da simulação em situações de emergência clínica. Os estudo longitudinais (n=7) focaram em desenvolver currículos de simulação ou avaliar cursos e instrumentos de ensino clínico. As evidências sugerem um foco importante no treinamento e desenvolvimento das interações entre instrutores, docentes, pacientes e estudantes, tanto a partir de habilidades técnicas quanto as comportamentais. Assim, as diversas técnicas de simulação permitem adaptar essa estratégia a diferentes níveis curriculares e com diferentes objetivos de desenvolvimento profissional e competências. Conclusão: O uso da simulação dentro de um ambiente seguro de aprendizagem, voltado ao ensino e treinamento da medicina de emergência têm contribuído como mais uma ferramenta para a melhora da performance dos profissionais da área, promovendo um atendimento mais seguro aos pacientes e de maior de qualidade na assistência à saúde
Referências
Brandão, C. F. S., & Fernandes, D. C. (2018). Importance and challenges of simulation training in healthcare. Scientia Medica, 28(1), 1. doi: http://doi.org/10.15448/1980-6108.2018.1.30102
Ministério da Educação (BR). Resolução CNE/CES nº 03/2014. Institui Diretrizes Curriculares Nacionais do Curso de Graduação em Medicina e dá outras providências. Diário Oficial da União. 2014 Jun 23; (Seção 1):8-11.
Dunnington RM. Presence with scenario-based high fidelity human patient simulation. Nurs Sci Q. 2014;27(2):157-64. doi: https://doi.org/10.1177/0894318414522655.
Alinier G, Platt A. International overview of high-level simulation education initiatives in relation to critical care. Nurs Crit Care. 2014 Jan;19(1):42-9. doi: https://doi.org/10.1111/nicc.12030
Austin A, Rudolf F, Fernandez J, Ishimine P, Murray M, Suresh P, McDaniel M, Shishlov K, Oyama L. COVID-19 educational innovation: Hybrid in-person and virtual simulation for emergency medicine trainees. AEM Educ Train. 2021 Apr 1;5(2):e10593. doi: https://doi.org/10.1002/aet2.10593
Everson J, Gao A, Roder C, Kinnear J. Impact of Simulation Training on Undergraduate Clinical Decision-making in Emergencies: A Non-blinded, Single-centre, Randomised Pilot Study. Cureus. 2020 Apr 12;12(4):e7650. doi: https://doi.org/10.7759/cureus.7650
Davis D, Warrington SJ. Simulation Training and Skill Assessment in Emergency Medicine. 2022 May 8. In: StatPearls [Internet]. Treasure Island (FL): StatPearls Publishing; 2022 Jan–. PMID: 32491627.
Colman N, Edmond MB, Dalpiaz A, Walter S, Miller DC, Hebbar K. Designing for Patient Safety and Efficiency: Simulation-Based Hospital Design Testing. HERD. 2020 Oct;13(4):68-80. doi: https://doi.org/10.1177/1937586720921777
Brydges R, Campbell DM, Beavers L, Khodadoust N, Iantomasi P, Sampson K, et al. Lessons learned in preparing for and responding to the early stages of the COVID-19 pandemic: one simulation's program experience adapting to the new normal. Adv Simul (Lond). 2020;5:8. doi: https://dx.doi.org/10.1186%2Fs41077-020-00128-y.
Parisi MCR, Frutuoso L, Benevides SSN, Barreira NHM, Silva JLG, Pereira MC, Cecilio-Fernandes D. The challenges and benefits of online teaching about diabetes during the COVID-19 pandemic. Diabetes Metab Syndr. 2020 Jul-Aug;14(4):575-576. doi: https://doi.org/10.1016/j.dsx.2020.04.043
Whittemore R, Knafl K. The integrative review: updated methodology. J Adv Nurs. 2005 Dec;52(5):546-53. doi: https://doi.org/10.1111/j.1365-2648.2005.03621.x
Shaikh U, Natale JE, Till DA, Julie IM. "Good Catch, Kiddo"-Enhancing Patient Safety in the Pediatric Emergency Department Through Simulation. Pediatr Emerg Care. 2022 Jan 1;38(1):e283-e286. doi: https://doi.org/10.1097/PEC.0000000000002262
Boukatta B, Bouazzaoui AE, Touzani S, Houari N, Benmaamar S, Kanjaa N. A case study on significance of medical simulation for soft skills training in emergency medical crisis management. J Med Surg Res. 2022; 3(1):996-1002. doi: https://doi.org/10.46327/msrjg.1.000000000000203
Huang WC, Hsu SC, Yang CH, Lin CW, Suk FM, Hu KC, Wu YY, Chen HY, Hsu CW. A novel approach: Simulating multiple simultaneous encounters to assess multitasking ability in emergency medicine. PLoS One. 2021 Sep 28;16(9):e0257887. doi: https://doi.org/10.1371/journal.pone.0257887
Farrell C, Dorney K, Mathews B, Boyle T, Kitchen A, Doyle J, Monuteaux MC, Li J, Walsh B, Nagler J, Chung S. A Statewide Collaboration to Deliver and Evaluate a Pediatric Critical Care Simulation Curriculum for Emergency Medical Services. Front Pediatr. 2022 Jun 14;10:903950. doi: https://doi.org/10.3389/fped.2022.903950
Battaglini D, Ionescu Maddalena A, Caporusso RR, Garofalo E, Bruni A, Bocci MG, Cingolani E, Giarratano A, Petrini F; SIAARTI ACADEMY CREM Group. Acquisition of skills in critical emergency medicine: an experimental study on the SIAARTI Academy CREM experience. Minerva Anestesiol. 2021 Nov;87(11):1174-1182. doi: https://doi.org/10.23736/S0375-9393.21.15427-6
Al-Mukhtar O, Bilgrami I, Noaman S, Lapsley R, Ozcan J, Marane C, Groen F, Cox N, Chan W. Cardiac Arrest in the Cardiac Catheterization Laboratory: Initial Experience With the Role of Simulation Setup and Training. Am J Med Qual. 2021 Jul-Aug 01;36(4):238-246. doi: https://doi.org/10.1177/1062860620950805
Burns R, Madhok M, Bank I, Nguyen M, Falk M, Waseem M, Auerbach M. Creation of a standardized pediatric emergency medicine simulation curriculum for emergency medicine residents. AEM Educ Train. 2021 Aug 1;5(4):e10685. doi: https://doi.org/10.1002/aet2.10685
Raupach T, de Temple I, Middeke A, Anders S, Morton C, Schuelper N. Effectiveness of a serious game addressing guideline adherence: cohort study with 1.5-year follow-up. BMC Med Educ. 2021 Mar 30;21(1):189. doi: https://doi.org/10.1186/s12909-021-02591-1
Garner DG Jr, DeLuca MB, Crowe RP, Cash RE, Rivard MK, Williams JG, Panchal AR, Cabanas JG. Emergency medical services professional behaviors with violent encounters: A prospective study using standardized simulated scenarios. J Am Coll Emerg Physicians Open. 2022 Apr 21;3(2):e12727. doi: https://doi.org/10.1002/emp2.12727
Reardon RF, Chinn E, Plummer D, Laudenbach A, Rowland Fisher A, Smoot W, Lee D, Novik J, Wagner B, Kaczmarczyk C, Moore J, Thompson E, Tschautscher C, Dunphy T, Pahl T, Puskarich MA, Miner JR. Feasibility, utility, and safety of fully incorporating transesophageal echocardiography into emergency medicine practice. Acad Emerg Med. 2022 Mar;29(3):334-343. doi: https://doi.org/10.1111/acem.14399
Alabi O, Hill R, Walsh M, Carroll C. Introduction of an ENT emergency-safe boot camp into postgraduate surgical training in the Republic of Ireland. Ir J Med Sci. 2022 Feb;191(1):475-477. doi: https://doi.org/10.1007/s11845-021-02581-8
Bonz JW, Pope JK, Wong AH, Ray JM, Evans LV. Just-in-time clinical video review improves successful placement of Sengstaken-Blakemore tube by emergency medicine resident physicians: A randomized control simulation-based study. AEM Educ Train. 2021 Feb 16;5(3):e10573. doi: https://doi.org/10.1002/aet2.10573
Barnicle R, Boaglio S, Fitzgerald J, Otterness K, Johnson S, Ahn C. Left Ventricular Assist Device Multialarm Emergency: A High-Fidelity Simulation Case for Emergency Medicine Residents. MedEdPORTAL. 2021 May 5;17:11156. doi: https://doi.org/10.15766/mep_2374-8265.11156
Peng C, Ng KM, Roszczynialski KN, Warrington SJ, Schertzer K. Rapid Cycle Deliberate Practice in Virtual Reality: Teaching Transvenous Pacemaker Insertion to Emergency Medicine Residents. Cureus. 2021 Oct 5;13(10):e18503. doi: https://doi.org/10.7759/cureus
Prudhomme N, O'Brien M, McConnell MM, Dudek N, Cheung WJ. Relationship between ratings of performance in the simulated and workplace environments among emergency medicine residents. CJEM. 2020 Nov;22(6):811-818. doi: https://doi.org/10.1017/cem.2020.388
Hughes PG, Hughes KE, Hughes MJ, Weaver L, Falvo LE, Bona AM, Cooper D, Hobgood C, Ahmed RA. Setup and Execution of the Rapid Cycle Deliberate Practice Death Notification Curriculum. J Vis Exp. 2020 Aug 5;(162). doi: https://doi.org/10.3791/61646
Ali AA, Chang WW, Tabatabai A, Pergakis MB, Gutierrez CA, Neustein B, Gilbert GE, Podell JE, Parikh G, Badjatia N, Motta M, Lerner DP, Morris NA. Simulation-based assessment of trainee's performance in post-cardiac arrest resuscitation. Resusc Plus. 2022 Apr 28;10:100233. doi: https://doi.org/10.1016/j.resplu.2022.100233
Bullard MJ, Fox SM, Heffner AC, Bullard CL, Wares CM. Unifying Resident Education: 12 Interdisciplinary Critical Care Simulation Scenarios. MedEdPORTAL. 2020 Oct 28;16:11009. doi: https://doi.org/10.15766/mep_2374-8265.11009
Abulfaraj MM, Jeffers JM, Tackett S, Chang T. Virtual Reality vs. High-Fidelity Mannequin-Based Simulation: A Pilot Randomized Trial Evaluating Learner Performance. Cureus. 2021 Aug 11;13(8):e17091. doi: https://doi.org/10.7759/cureus.17091
Silva DSM et al. Metodologias ativas e tecnologias digitais na educação médica: novos desafios em tempos de pandemia. Rev Bras Educ Med [online]. 2022; 46(2), e058. doi: https://doi.org/10.1590/1981-5271v46.2-20210018
Fettermann JV, Tamariz ADR. Ensino remoto e ressignificação de práticas e papéis na educação. Texto Livre [Internet]. 2021 Apr 27;14(1):e24941–1. doi: https://doi.org/10.35699/1983-3652.2021.24941
Costa JGF, Aguiar ARC de, Araújo AL de L e S, Basílio ABS, Costa RR de O, Melo PD de, Ramalho HMM. Práticas contemporâneas do ensino em saúde: reflexões sobre a implantação de um centro de simulação em uma universidade privada. RBPS [Internet]. 2013;15(3).
Hunter LA. Debriefing and Feedback in the Current Healthcare Environment. J Perinat Neonatal Nurs. 2016 Jul-Sep;30(3):174-8. doi: https://doi.org/10.1097/JPN.0000000000000173
Herrera-Aliaga E, Estrada LD. Trends and Innovations of Simulation for Twenty First Century Medical Education. Front Public Health. 2022 Mar 3;10:619769. doi: https://doi.org/10.3389/fpubh.2022.619769
Naylor KA, Torres KC. Translation of learning objectives in medical education using high-and low-fidelity simulation: Learners' perspectives. J Taibah Univ Med Sci. 2019 Nov 22;14(6):481-487. doi: https://doi.org/10.1016/j.jtumed.2019.10.006
Keating SB. The classic components of the curriculum: developing a curriculum plan. In: Keating S.B., DeBoor S., editors. Curriculum development and evaluation in nursing education. Fourth. Springer Publishing Company; New York, NY: 2019. pp. 150–158
El Khamali R, Mouaci A, Valera S, Cano-Chervel M, Pinglis C, Sanz C, et al.. Effects of a multimodal program including simulation on job strain among nurses working in intensive care units: a randomized clinical trial. JAMA. (2018) 320:1988–997. doi: https://doi.org/10.1001/jama.2018.14284
Nelsen BR, Chen YK, Lasic M, Bader AM, Arriaga AF. Advances in anesthesia education: increasing access and collaboration in medical education, from E-learning to telesimulation. Curr Opin Anaesthesiol. 2020 Dec;33(6):800-807. doi: https://doi.org/10.1097/ACO.0000000000000931
Lawson S, Reid J, Morrow M, Gardiner K. Simulation-based Education and Human Factors Training in Postgraduate Medical Education: A Northern Ireland Perspective. Ulster Med J. 2018 Oct;87(3):163-167
Pong KM, Teo JT, Cheah FC. Simulation-Based Education in the Training of Newborn Care Providers-A Malaysian Perspective. Front Pediatr. 2021 Feb 11;9:619035. doi: https://doi.org/10.3389/fped.2021.619035
Costa RR de O, Araújo MS de, Medeiros SM de, Mata AN de S, Almeida RG dos S, Mazzo A. Análise conceitual e aplicabilidade de telessimulação no ensino em saúde: Revisão de escopo. Esc. Anna. Nery [Internet]. 2022 Jul 8;26. doi: https://doi.org/10.1590/2177-9465-EAN-2021-0457pt
Dal Pai D, Gemelli MP, Boufleuer E, Finckler PVPR, Miorin JD, Tavares JP, et al. Repercussões da pandemia pela COVID-19 no serviço pré-hospitalar de urgência e a saúde do trabalhador. Esc. Anna. Nery. 2021;25(spe). doi: https://doi.org/10.1590/2177-9465-EAN-2021-0014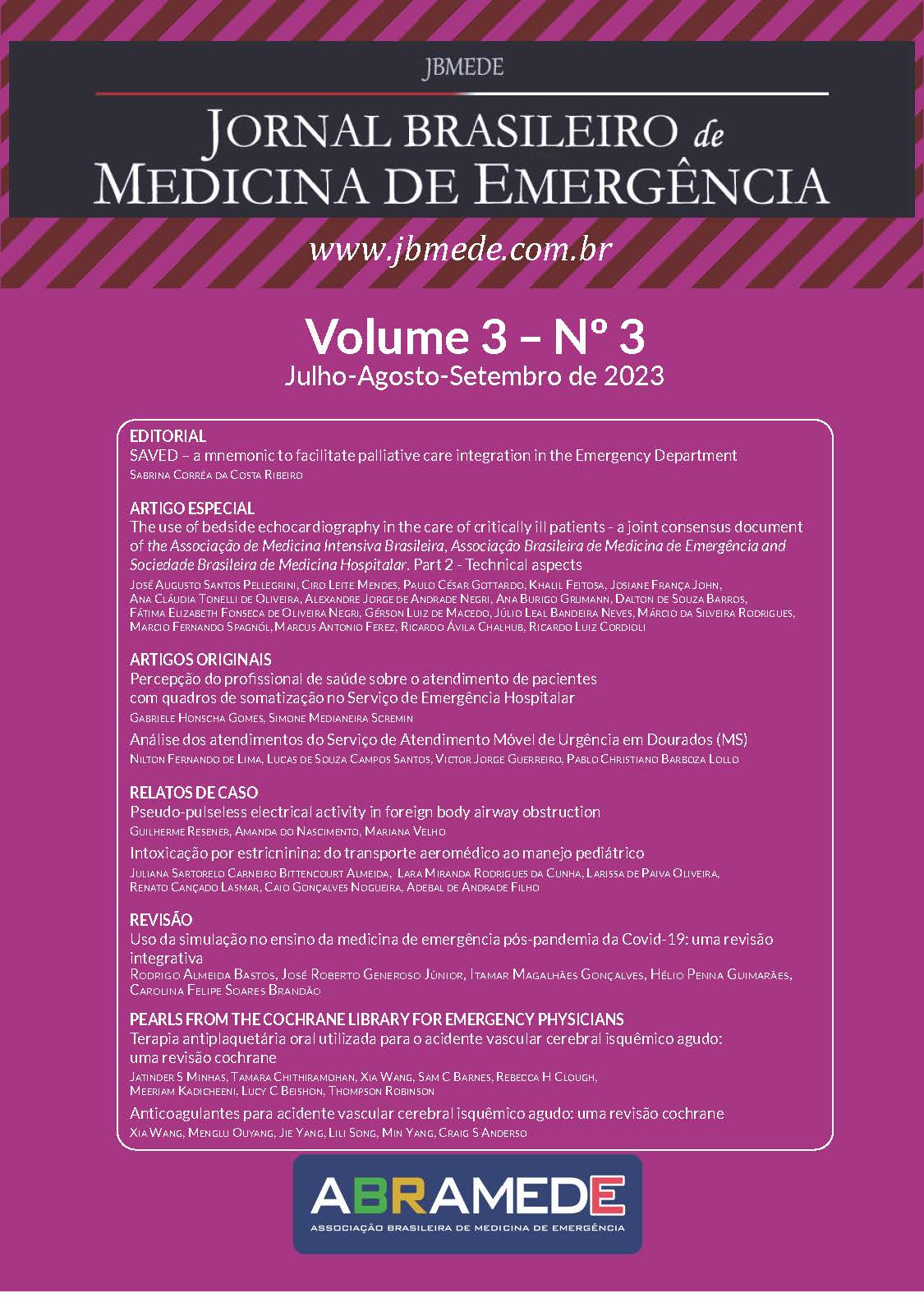 Downloads
Como Citar
Bastos, R., Generoso Junior , J. R. ., Magalhães Gonçalves , I. ., Penna Guimarães, H. ., & Felipe Soares Brandão, C. . . (2023). Uso da simulação no ensino de Medicina de Emergência pós-pandemia de COVID-19: uma revisão integrativa. JBMEDE - Jornal Brasileiro De Medicina De Emergência, 3(3), e23021. https://doi.org/10.54143/jbmede.v3i3.101
Licença
Copyright (c) 2023 JBMEDE - Jornal Brasileiro de Medicina de Emergência
Este trabalho está licenciado sob uma licença
Creative Commons Attribution 4.0 International License
.